L'histoire enfermé
Dans le vieux piano mort
Et c'est l'aventure
Qui bat la mesure
De plus en plus fort.
Au clair de la vie,
Les mains des amis,
Les yeux des lendemains,
La vie devant nous,
L'amour, et puis tout…
I absolutely love pianos. I grew up playing one. Every night before dinner my Dad would sit down to the piano for an hour or so, and I would accompany him on the treble clef or by singing.
Here are some scrumptious piano shots: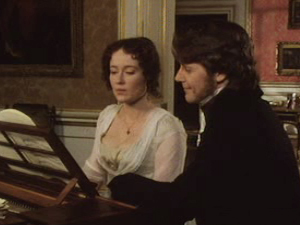 {pianos always feature prominently in Austen novels. via human science}
{around the piano Christmas 2005}
I LOVE this picture of my grandparents at their wedding in Simla, India. Here they are cutting the cake with a piano close by:
{My grandparents, Dennis & Gladys Clark, "Brancepeth" Simla, India 11 October 1941}
In my basement there is an old piano, that unfortunately is so neglected, broken & old that it isn't worth playing--un vrai vieux piano je suppose. One day I will own my own. For all of you out there who own pianos, let this encourage you to sit down & play...even if it's been years!
xo,
L